Sorry for the brief hiatus from our blog…we have been a bit busy and have a big backlog of posts to get up as a result!  In addition, it has actually not rained in like 2 weeks which for Germany is completely strange.  One thing I have really learned to appreciate here in Germany is nice weather, and that when it is nice out that you had best do something to enjoy it outside!
During the first week of July we had a brief vacation and spent a few days in Belgium.  As Alex cannot fly at the moment, we took a train there.  We have a train station a few blocks from our house so travelling by train is pretty convenient for us when we want to go somewhere in Frankfurt or when we want to travel within Europe.  Brussels, which is the capital of the EU is where our hotel was, is just a 4 hour train ride from home.  It's not any longer than it would be with travelling to and from the airport, security, etc.
We stayed at a new hotel that was along the canal and only about 4 blocks away from the nearest Metro station.  The Metro station was particularly important as the area we were in really didn't have much in the way of things to do…but they were only one or two stops away.  Our station also had these cool statues suspended from the ceiling…

Our first night we went to a restaurant which had just re-opened called Royal Brasserie which was really delicious! The first thing that we noticed was that for once we were both in a place where we didn't speak one of the primary languages! It took me a very long time (like, until the last day we were there) to say Merci instead of Danke. I guess I have just gotten accustomed to saying Danke when I don't understand what is being said around me! Anyway, the service staff were super friendly and gave great recommendations on the menu. I had a roasted chicken (which must be my current favorite thing) that was delicious based on our waiter's recommendation. Alex had a steak which was pretty darn good too. I would recommend it as a restaurant if you ever find yourself in Brussels!
The next day we went into the central area of Brussels. I found their central city to be so beautiful!


Or maybe it was just the guy who ends up in all of my pictures that is so nice to look at 🙂
The first thing we did based on recommendations from friends was to of course buy some chocolate!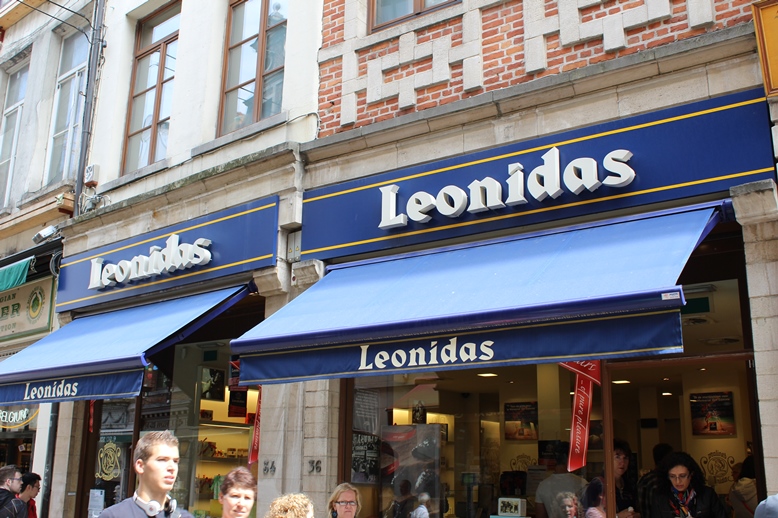 I mean…look at this and just TRY not to drool…

We were so overwhelmed that we just bought a pre-mixed box of chocolate.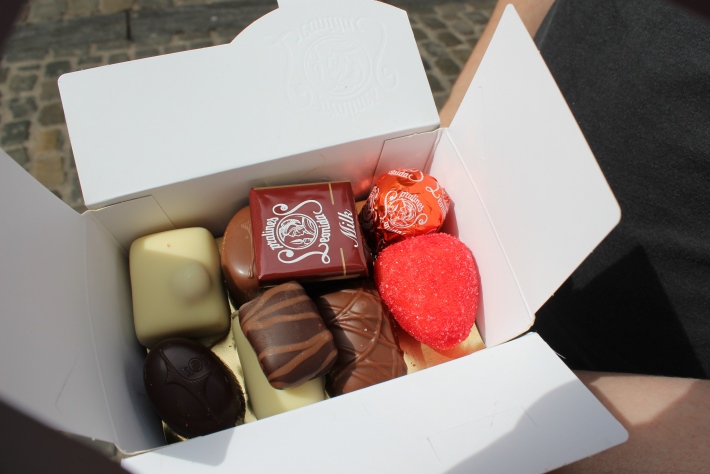 Next we headed to the Grand Place, where I enjoyed taking pictures and my husband ate more than his share of our box of chocolate 🙂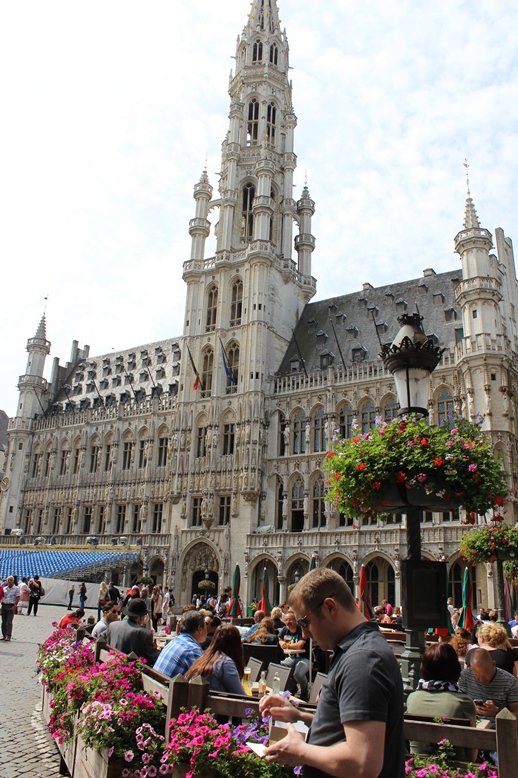 They were set up for the which is a re-enactment of the arrival of Charles V in Brussel. I had looked for tickets but was too late…they were already sold out. This event taking place during our stay unfortunately meant that there were temporary stands set up everywhere in the Grand Place and that the normal flower market was not there which I had been looking forward to was not there. We still enjoyed the sites…and the chocolate!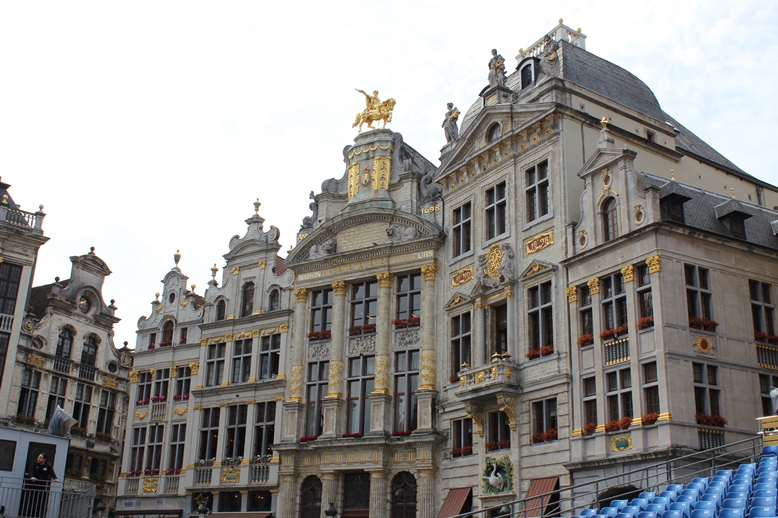 Next we walked to the Mannekin Pis statue…a famous statue of a little boy peeing.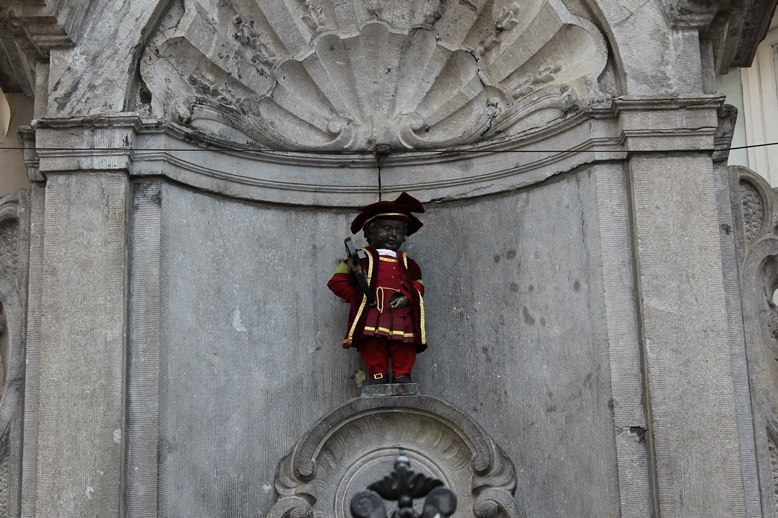 Next we took the train to a station outside of Brussels to see the Atomium which had been built for the world's fair in 1958.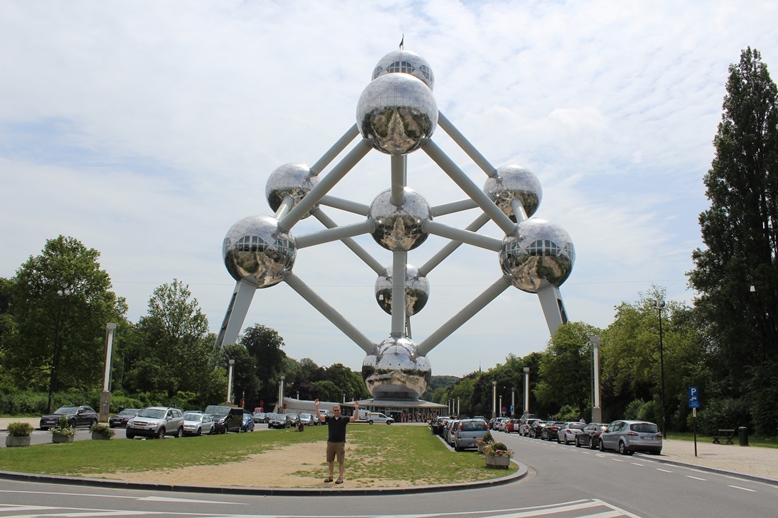 It was HUGE!
In the evening we had my favorite dinner during our trip…at a restaurant called Bonsoir Clara which was phenomenal!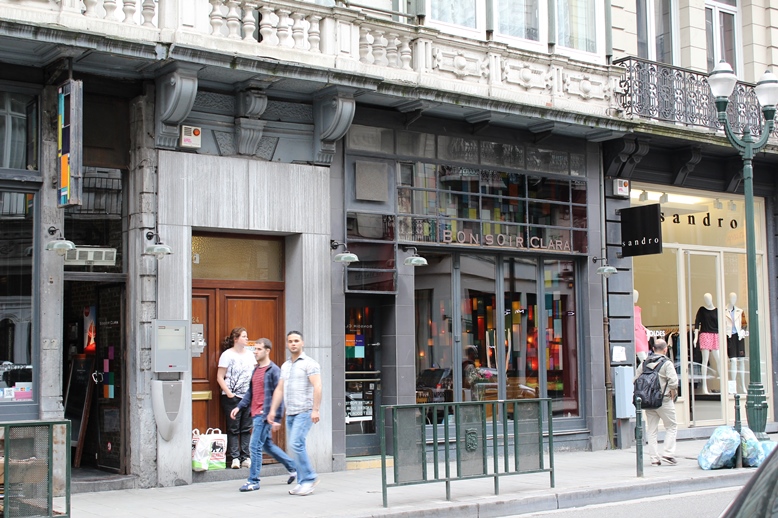 The inside was so cool!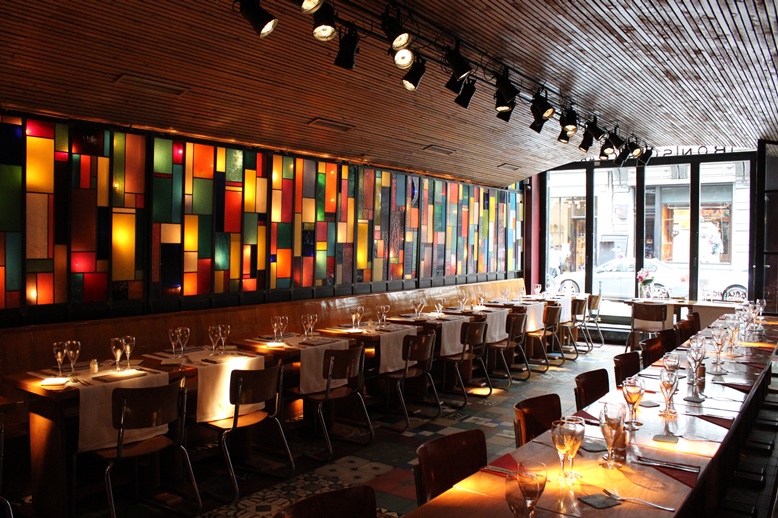 One word of warning if planning a trip to Brussel though…it is EXPENSIVE to eat! I am guessing that we didn't spend less than 80 euros on a meal during our whole trip!
On the next day, we took a train to Bruges which in the end we were so happy we did. If we were ever to go back we would probably stay there instead as it was just beautiful, even though it was a pretty crappy rainy day. First we walked around a bit, and then stopped for a few minutes in this church. Outside I asked Alex to pose like the statues…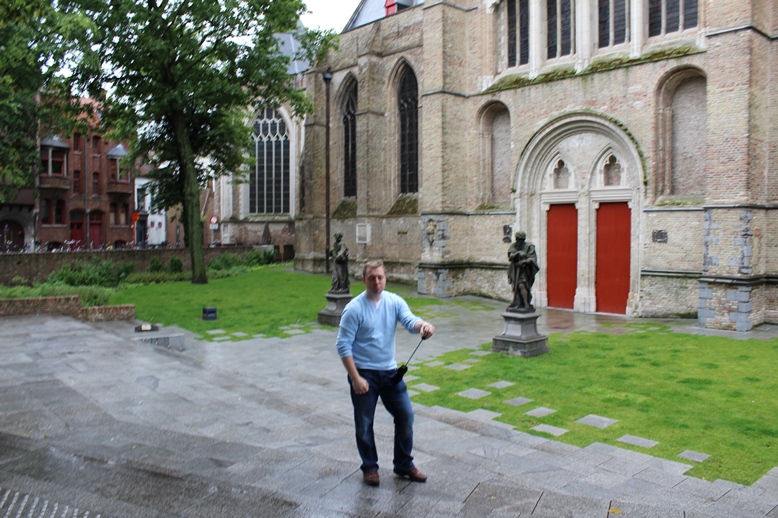 He's so funny!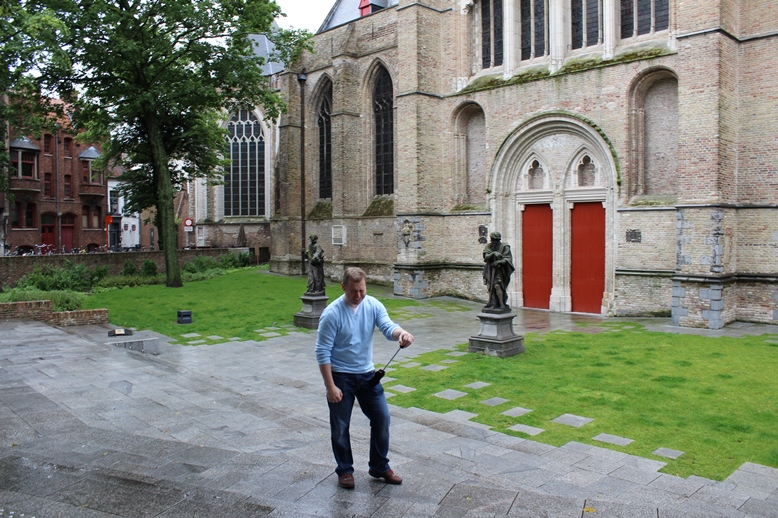 Inside he lit a candle for us…

…and we enjoyed the amazing grandeur of this church!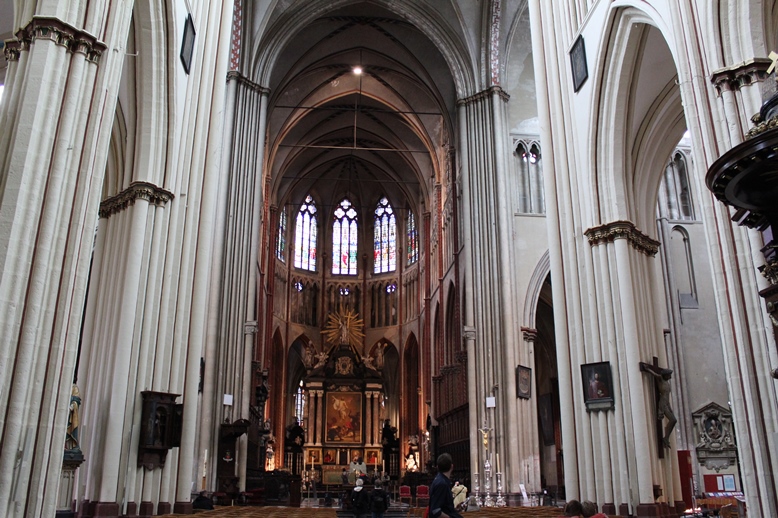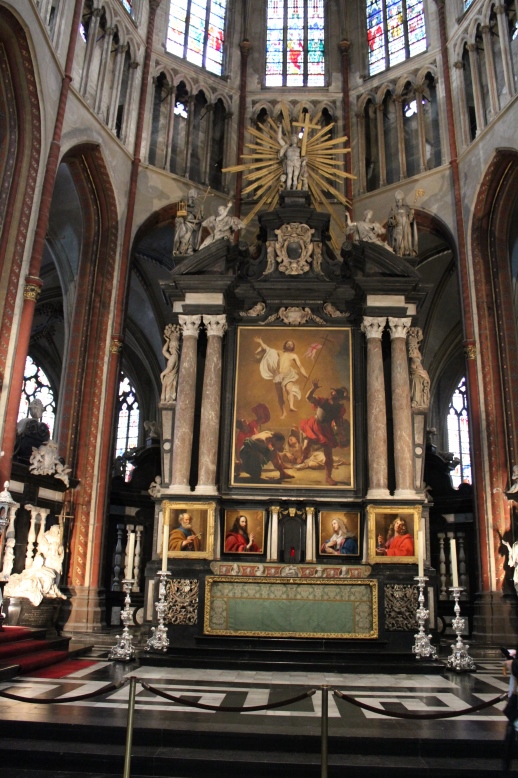 We then took a boat tour with a funny tour guide. This is one thing I would totally recommend doing while in Bruges as the canals are beautiful! We didn't take many pictures during this as the weather was not so great, but it was so cool! Here is a view of the canal…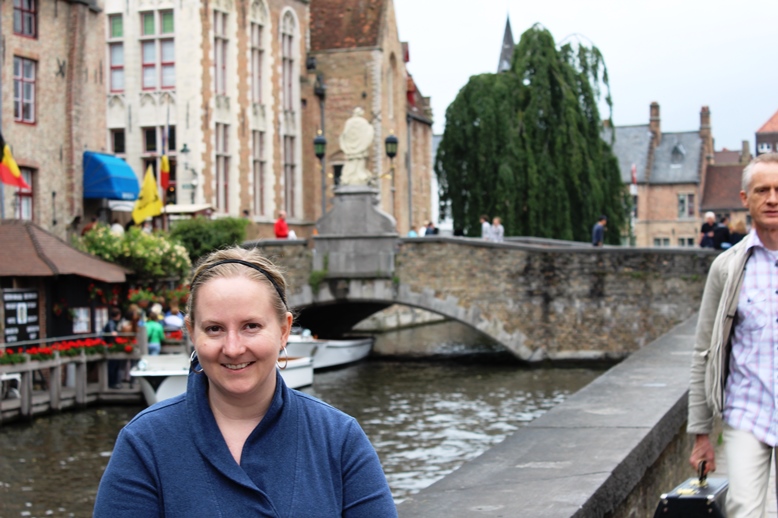 Maybe next time I'll go for a swim…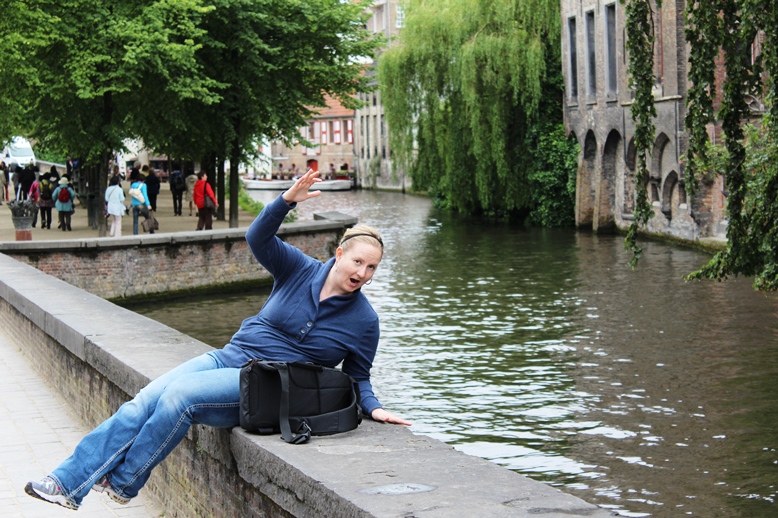 On the recommendation of our boat tour guide we decided to tour the last standing brewery in the city of Bruges, . It was very cool!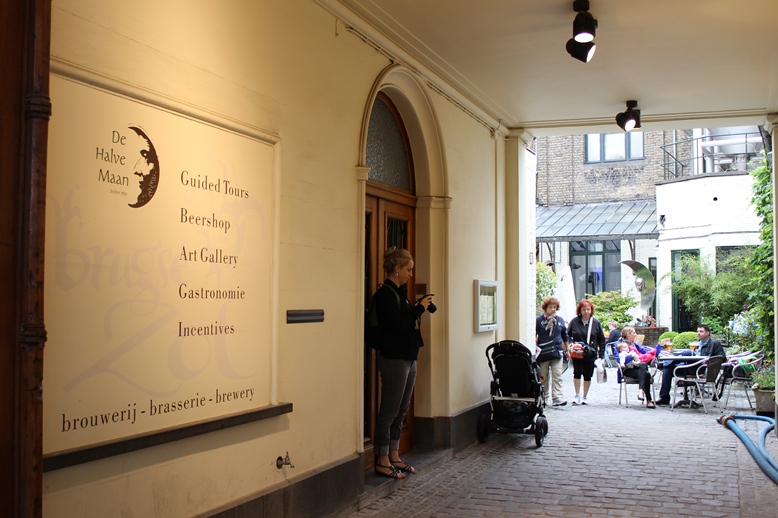 Our tour guide was pretty funny…but he had a cold so I felt bad that he had to talk so loud for our tour!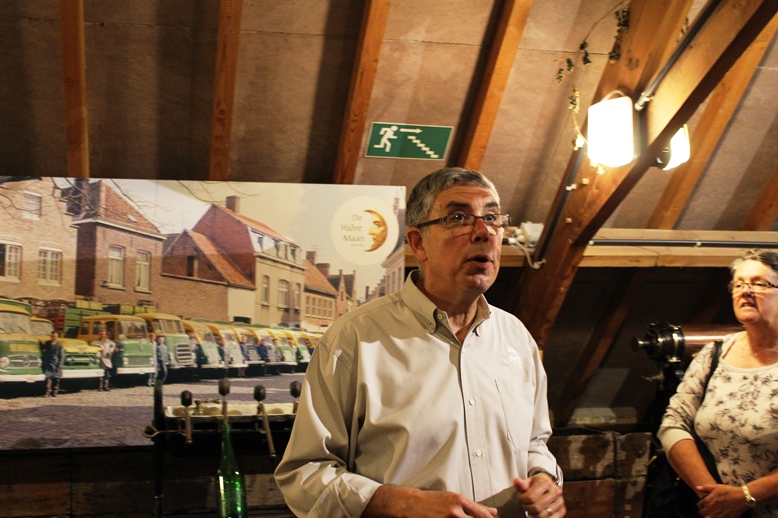 And from the top, you had amazing views of Bruges.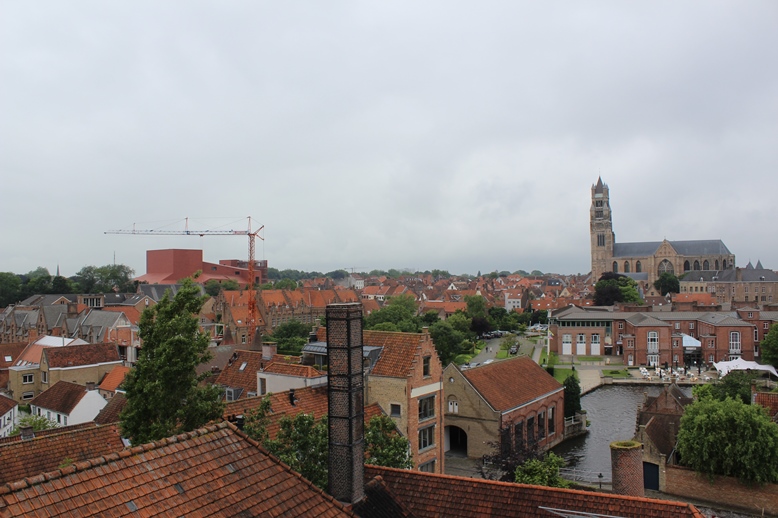 But this was the part that was the best…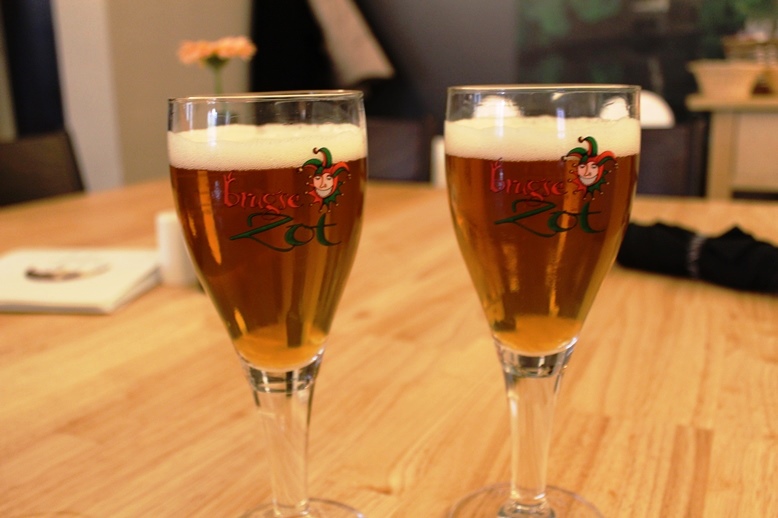 All in all…a good day!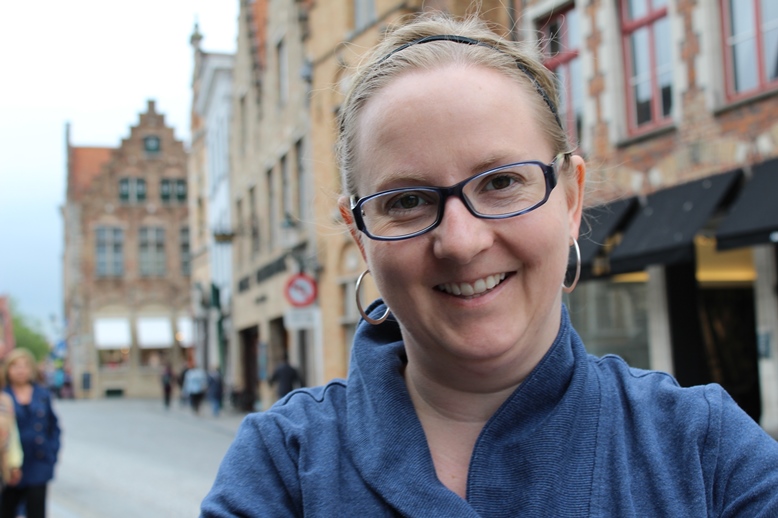 The next day, we got up to get to our train, only to have it pulling away as we headed up the escalator. We took a later train and met up with our American friends to enjoy a 4th of July burger at an Irish pub instead of off our grill as we had planned due to our later than expected arrival. Next time 🙂