During September of 2011 Alex and I attended a grilling seminar at the Kitchen Window in Minneapolis. At this point we did not own a grill, but knew we would be getting our Weber in a few months. During this seminar they made so many tasty things for us, one of the best of which was certainly the ribs! They had so many different grills and smokers going with ribs on them, and all I can say is YUM!
For Alex's second attempt at making ribs at home, we decided to do them just as they had prepared them in our seminar. This included just putting salt and pepper on them for the smoking session, with a homemade BBQ sauce being brushed on for the last half hour they were on the grill. Yum, yum, YUM!
This sauce has quite a long list of ingredients. I had to modify it a bit from the version they had prepared due to not having all the ingredients here in Germany…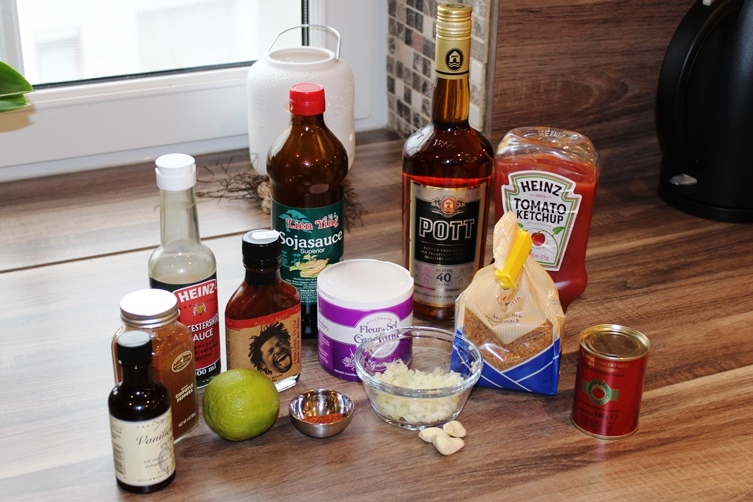 To counter the ridiculously long list of ingredients, the steps taken here are simple. First, spray a medium saucepan with non-stick spray, and then heat it over medium heat. When it is heated, first add the garlic. Leave for one minute, or until it just starts to brown. Then add the onion and sauté for an additional two minutes before adding all the rest of the ingredients (minus the zest of one lime and 2 tablespoons of rum). Once they are all added, it will look a bit like this…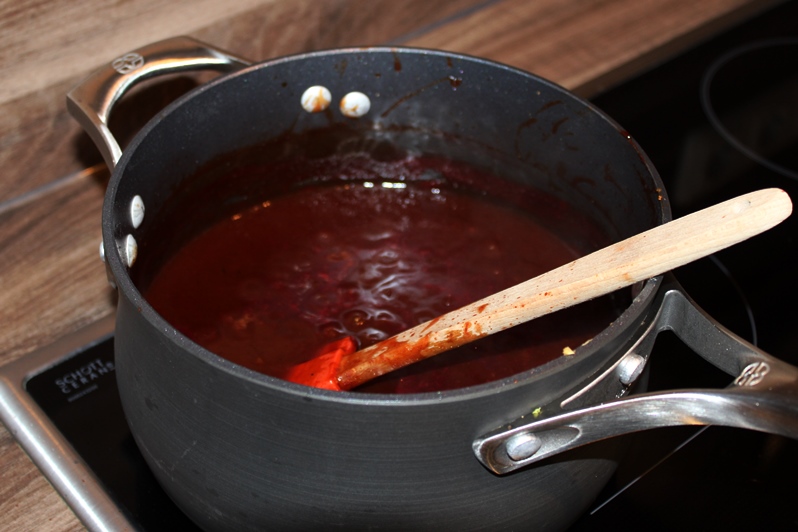 Reduce the heat, and then simmer for 45 minutes or until the sauce has reduced by half. Then add the remaining zest and rum.
Now it will look like this…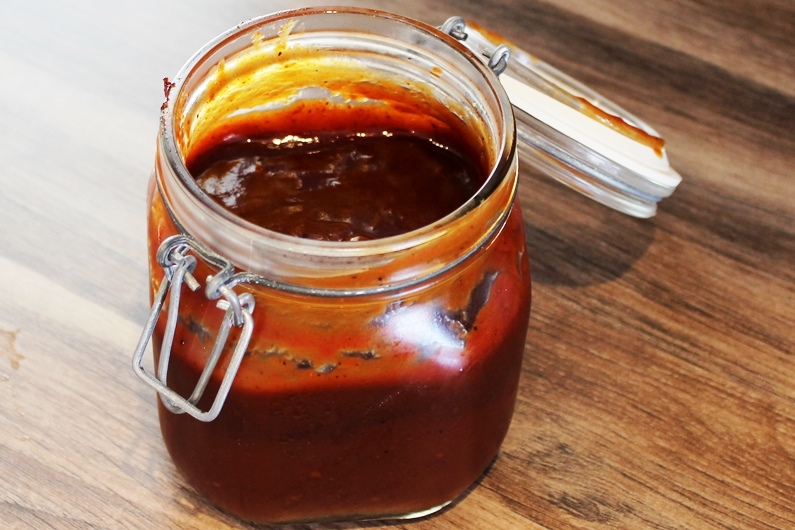 I made this the evening before, but there would have been time to do it while the ribs were smoking. It was delicious!
Drunken Lime BBQ Sauce
Ingredients :
2 Tablespoons Yellow Onion, Finely Minced
3 Cloves Garlic, Finely Minced or Crushed
1/4 Teaspoon Habanero Sauce
1/4 Cup Tomato Paste
1/4 Cup Tomato Ketchup
1 Cup Dark Rum (+ 2 Tablespoons after cooking)
2 Teaspoons Worcestershire Sauce
1 Tablespoon Light Soy
1/4 Teaspoon Vanilla Extract
1/4 Cup Brown Sugar
1/2 Teaspoon Chipotle Chili Powder
1 Teaspoon BBQ Rub (The original recipe calls for one from the Kitchen Window)
1/4 Teaspoon Liquid Smoke (I used a Hickory one)
1/2 Teaspoon Black Pepper
1/2 Teaspoon Salt
2 Limes, Zest only (Reserve one for after cooking)
Instructions :
Preheat a lightly greased saucepan over medium heat. Sauté garlic for one minute, before adding minced onion. Sauté for 2 minutes longer, then reduce heat and add remaining ingredients, reserving the zest of one lime and 2 tablespoons of rum. Simmer for 45 minutes or until the sauce has reduced by half. Add the reserved lime zest and rum.
When food is fully cooked, brush lightly with the sauce and warm for an additional 5 minutes until the sauce is thickened.
Source : Kitchen Window